What you need to know about supplying artwork for your private label chocolate pouches
Example chocolate pouch artwork template (smaller than actual size):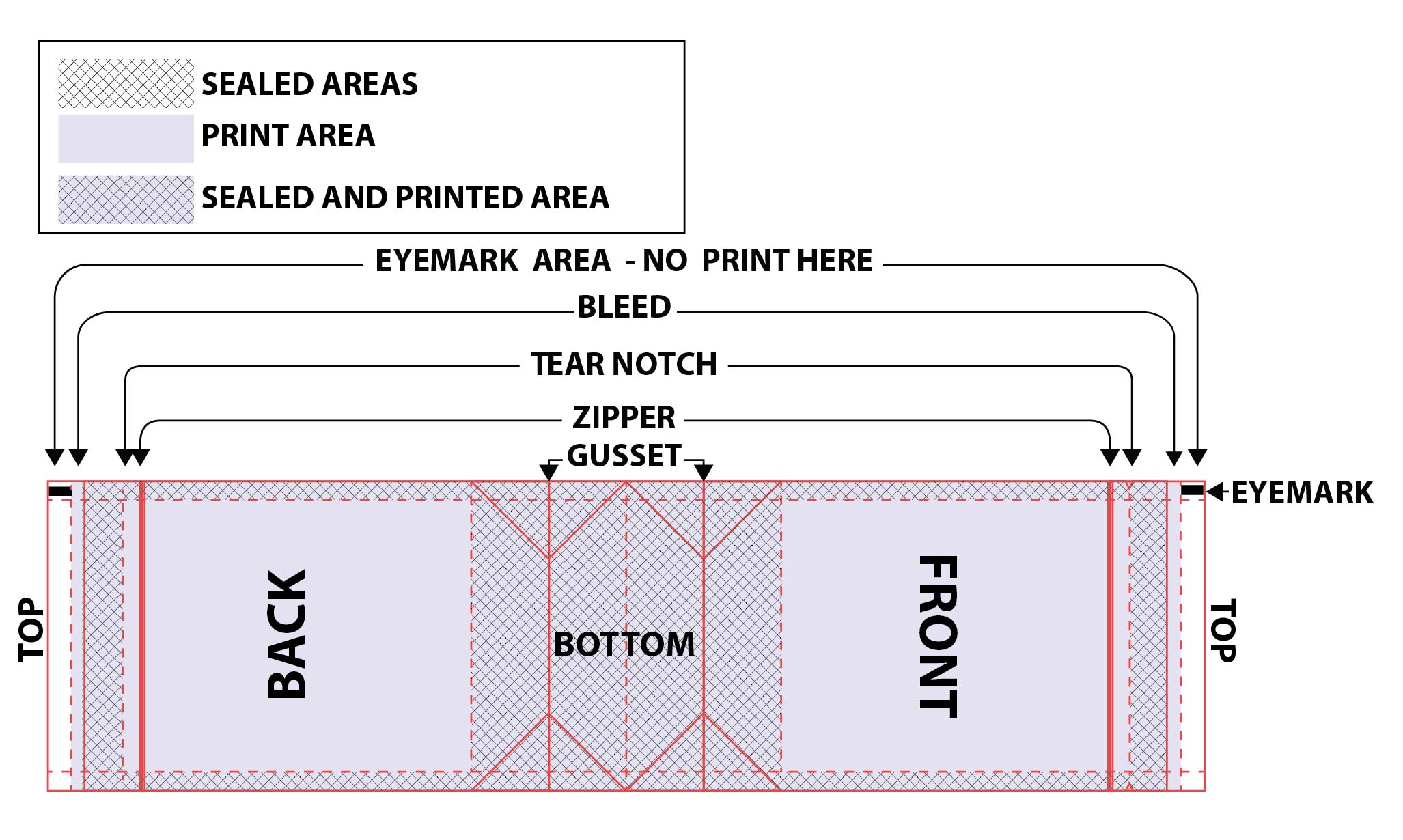 It's our vision at Hames Chocolates Ltd to be the UK's top chocolate manufacturer, chocolate experts and your private label partner.
Hames make delicious chocolates and one of our options for packaging is a pouch.
Pouches are suitable for packing lots of confectionery treats: chocolate truffles, moulded chocolates, chocolate coated pretzels, hot chocolate, fudge pieces and chocolate coated honeycomb to name a few. You can decide how big and how wide you'd like the pouches making and what weight of product you'd like in each pouch. There's also an option of a resealable zip.
Stand – up pouches are very popular. They can be made from recyclable materials and there is very little waste packaging. They are printed digitally and you can choose from a matt or a gloss finish.
A chocolate pouch is commonly made from recyclable polythene (PE) or polypropylene (PP). This is a flexible material which can be fully personalised to your design. The material is printed flat and formed into the pouch shape.
Process of supplying artwork for chocolate pouches:
1. Ask us for the template. This is a die line file that outlines the structure and dimensions of the packaging. Each product or size of product needs its own template.
2. Set up the artwork file using graphic design software such as Adobe Illustrator. Create a new document with the same dimensions as the template
3. Place the template: Import the template into the document as a separate layer making sure it aligns correctly. Lock the template to prevent accidental movements.
4. Design the artwork: Put this on a separate layer to the template. Don't forget to also include information such as ingredients, allergen information, nutritional info, the product weight, include your company contact details and a barcode and any other legally required information. Consider adding recycling information.
5. The price for your pouches have been based on a cmyk print. It is possible to print pantone colours but we may need to requote for this if you haven't mentioned at time of order. If you want us to pantone match colour you MUST supply your artwork in pantone format as we cannot adjust on press. It is possible to have full colour cmyk print plus pantones.
6. Incorporate the photocell eye mark into your artwork: The photocell is a sensor that detects printed marks or signals. Its important to incorporate the square mark in the design IN THE CORRECT PLACE. The whole strip at the top of the pouch where the eye mark is locate must be left white. This section will be completely cut off by the printer. The sensor tells the software where to cut.
7. You will see from the diagram image a section called BLEED. This section will also be cut off by the printer. It is wise to put bleed artwork in this section. This section will also be cut off but the pouch could reasonably by a mm or so out of registration and that is why it is wise to put some bleed artwork in this area so that you don't end up with a white or clear stripe.
8. The TEAR NOTCH is a little cut out to make it easier for the consumer to open the pouch.
9. You will only get a ZIPPER in your pouch if your order clearly states that you want a zipper. The zipper is often included on the artwork template as standard but you won't get a zipper unless you've ordered it.
10. The GUSSET makes the base of the stand-up pouch so it is not visible to the front or back of the pouch on shelf. It is worth putting some bleed artwork fractionally over the gusset line as a reasonable tolerance if the pouch is fractionally out of registration so that you don't end up with a different coloured stripe at the base of your pouch.
11. When you supply the print ready artwork make sure all the fonts have been outlined before sending the artwork over.
12. We will email a proof for you to approve before we go to print.