5 Benefits of working with an expert private label chocolate manufacturer
5 Benefits of working with an expert private label chocolate manufacturer
Private label chocolates are chocolates manufactured or sold under a retailer's (or other business) name rather than the manufacturer's. There are many benefits to working this way, which is why it's an industry that's grown year on year.
Why opt for a private label manufacturer for your chocolate products?
Working with a private label chocolate manufacturer allows retailers (and other businesses) to create a variety of chocolate product lines in a cost-effective way. Retailers are the guiding force behind the design and style of the packaging, so they can deliver products they know that their customers will find visually appealing.
In today's competitive market pricing makes a big difference. Private label products can offer higher margins compared to reselling existing brands, allowing retailers to avoid the high costs of stocking a brand name, as well as the costs that come with extra links in the supply chain.
By working with a private label manufacturer businesses can cultivate their image and encourage customers to associate their chocolate with a particular outlet or cafe. Private label chocolates are also a great way to say thank you to customers and employees or impress potential new clients.
Choosing the right private label chocolate manufacturer
1 Proven track record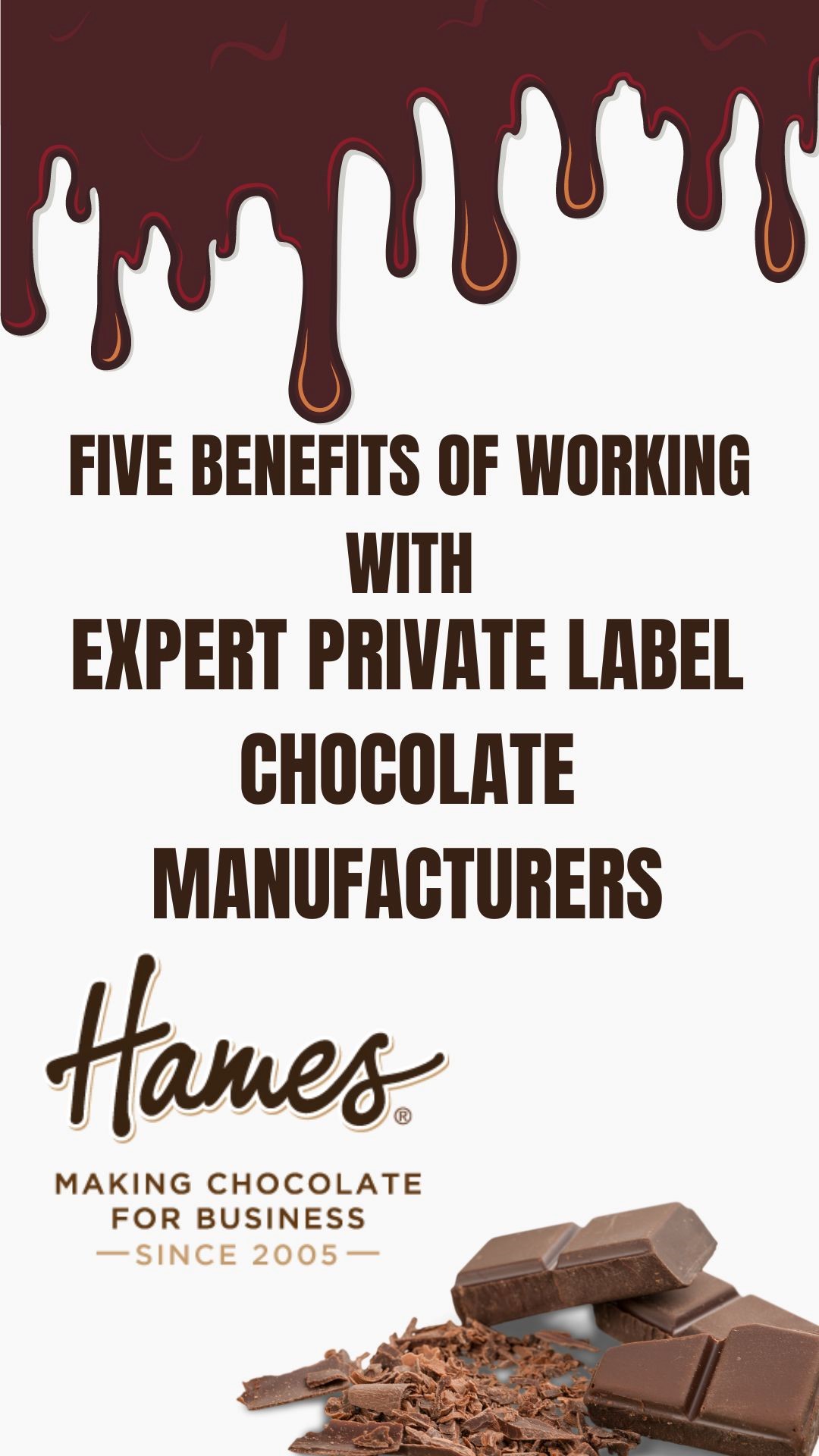 Your selected private label chocolate manufacturer needs to have expert chocolate-manufacturing knowledge and a proven track record. Hames's chocolates, for example, have made chocolates that have been found on the majority of large supermarket shelves, so you can be sure they're of a high quality.
2 Expertise to make chocolates for all types of markets
Private label chocolate manufacturers should have the expertise to make chocolates at affordable prices to suit all tastes, from vegan and milk chocolate to chocolate bombs, hot chocolate flakes and dark chocolate. They should also be able to manufacture chocolate that's suitable for the health conscious - or to give as gifts on special occasions.
3 Cutting edge chocolate-making facilities
Working with a specialist manufacturer gives you access to large-scale facilities that are equipped with the latest machinery. This means your desired chocolate products can be made quickly and efficiently - and in any form you desire. This allows you to expand your product lines as and when you like and make changes and variations to any kind of branded chocolates from bars and truffles to lollipops and bombes.
At Hames our skilled chocolate artisans can make and decorate your chocolates for you by hand for that special extra touch. Our semi-automated production lines and chocolate moulding machines also allow us to make a wide variety of products of various shapes and sizes, that can be filled or flavoured exactly to your requirements. We also offer flexibility in terms of the quantities you require and how often you need them.
4 Is fully accredited
A private label chocolate manufacturer should have a professional setup with top food safety accreditations and proof that they're compliant with the highest standards.
Hames is a BRC accredited company with a proven track record in manufacturing products for both well-known brands and lesser known brands. We are members of Sedex and committed to creating a more socially and environmentally sustainable business,
5 Offers exclusivity
Private labelling with a reliable manufacturer allows you to create a brand that will resonate directly with your target market based on your own research and experience. It provides you with a way to stand out from the competition and build strong product recognition.
Whether you are a large or small business, a wholesaler, distributor, supermarket, or in the hospitality industry, Hames can supply you with high quality chocolates to suit your target audience. We also offer you the option of creating branded Fairtrade and Rainforest Alliance chocolate products.