Send a Hames Easter Colleague Box and show your appreciation
It's never been easier to show your employees and colleagues your appreciation. Keep team spirit alive with Easter themed colleague boxes by Lincolnshire chocolatiers at Hames designed to be sent out by post or courier and give a boost to colleagues who may be working remotely. After a year of working from home send your colleagues a smile and spread some cheer.
Each Easter colleague box contains: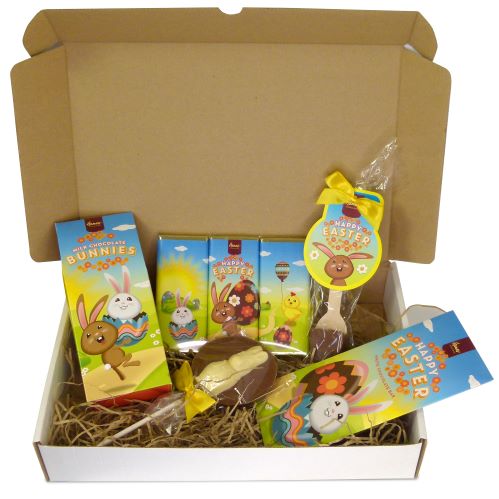 A box of Hames chocolate bunnies  

A trio of Hames milk chocolate bars

A hot chocolate spoon

A large white Hames chocolate bar

An Easter chocolate lollipop
Send us a personalized note and we'll include it in the box.
Carol Oldbury, Director of Hames Chocolates, explains: "One of our customers approached us and asked us to create an Easter chocolate package to send to their nearly 1000 colleagues, the Hames Easter chocolate colleague box was born.

"
The minimum order for Hames Colleague boxes is one box though there are price breaks for larger orders. Contact us for details.